Our First Priority Is to Provide Customers With High Quality Water
Your tap water meets or exceeds all Federal and State drinking water health standards thanks to our full-time staff of water quality professionals who diligently monitor and safeguard your water supplies 24/7.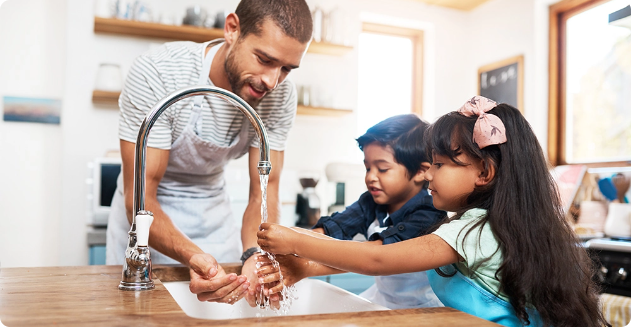 State Certified Operators. MCWD's Operations and Maintenance team is composed of highly certified drinking water professionals who are on the job every day to ensure that your water continually meets quality standards.
Extensive Quality Testing. Before the water reaches your tap, it is sampled and tested along every step of the water's journey to you. Testing begins with the groundwater itself, which is checked at the source wells, and again after disinfection. In total, up to 2,000 or more tests are performed per year to ensure all water is meeting water quality standards.
Independent, State-Certified Laboratories conduct all the District's testing. These test results are automatically reported to the State, where they are confirmed and tracked.
Disinfection for Quality. Small amounts of chlorine provide protection against potential disease-causing organisms.
Automated Monitoring and Backup Systems for Reliability. Additional testing, backup power, and automated monitoring systems ensure that the entire water system is working properly, so you always receive quality water.
The District's water quality testing is extremely accurate. We test for over 200 substances. Depending on the substance, we can detect as little as two drops of a substance in a trillion drops of water (two parts per trillion). How small are these measurements?
One part per trillion is equivalent to: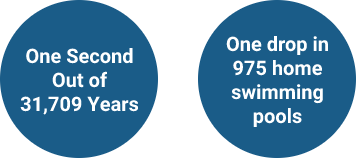 Water quality throughout the Central Marina and Ord communities is diligently monitored by the Marina Coast Water District. Before water reaches your tap, water samples are collected and tested in state certified laboratories. Samples are collected from a combination of source wells, chlorination treatment sites, storage tanks, distribution system, and from point-of-use locations.
Our regularly scheduled water sampling program along with our prudent operations and maintenance team, ensures that your water meets all State and Federal drinking water standards.
The District samples for coliform bacteria (Total and E.coli) in the distribution system on a weekly basis as a part of our routine sampling program. Sampling for coliform bacteria may help indicate the presence of disease-causing organisms therefore allowing the District to take proactive measures to ensure your water is safe to drink. Samples are collected from state approved distribution system locations, which consist of taking five samples from Central Marina and five samples from the Ord community; a different set of five is analyzed each week for both service areas. In total, there are forty different distribution sample locations that the Operations staff sample each month.
The District also collects and analyses regulatory water samples which monitor compliance for over 200 constituents in the drinking water; many of these constituents are naturally occurring substances. The water supply samples are tested for general minerals such as calcium, magnesium, hardness; inorganic chemicals such as arsenic, chromium and other metals; organic chemicals such as solvents, pesticides and herbicides; radioactivity including radon; asbestos and other chemicals that are still not regulated and have no state or federal standards. The distribution system is also tested for disinfection by-products such as total trihalomethanes (TTHM) and haloacetic acids (HAAs5). Every three years, lead and copper samples are collected from faucets located inside homes throughout the Central Marina and Ord Community to check for elevated levels of lead or copper, which can come from leaching of pipe materials used in water lines.
In addition to regulatory testing required by the state, the District voluntarily samples for a wide array of constituents that monitor the general/physical and chemical parameters for both Central Marina and the Ord Community. Water samples are tested for color, odor, turbidity, temperature, pH, conductivity, free chlorine residual, and sulfides.
It is important that we provide you with accurate and easy to understand water quality information. Please review the monthly summaries as listed at the bottom of the page.
Monitoring Data for Unregulated Contaminants
The District also samples for a series of unregulated contaminants which are those that do not yet have drinking water standards set by the EPA. The purpose of monitoring unregulated contaminants is to help the EPA decide whether the contaminants should have a standard set for monitoring. Every 5 years, the EPA issues a new list of unregulated contaminants that need to be monitored by public water systems; these lists are denoted by UCMR, or Unregulated Contaminant Monitoring Rule, and the version that is currently being used. The District conducted sampling for the UCMR4 reporting, which requires monitoring between 2018 and 2020. To view the results from the UCMR4 study, please click here. To view the results from the UCMR3 study (monitoring between 2013-2015), please click here.
As our customer, you have a right to know what your water contains and where it comes from. If you are interested in examining the water quality results, please review the latest version of the annual Consumer Confidence Report (CCR) here; this report is also available in Korean, Spanish, Tagalog, and Vietnamese. Should you have any questions regarding the water quality, please contact Derek Cray, Operations and Maintenance Manager, at (831) 384-6131 or via email at dcray@mcwd.org.
2023 Monthly Water Quality Reports – Bacteria & Chlorine Residuals (PDFs)
| | | | | | |
| --- | --- | --- | --- | --- | --- |
| January | February | March | April | May | June |
| July | August | September | October | November | December |
Previous Years Quality Reports – Bacteria & Chlorine Residuals (PDFs)
Previous Years Quality Reports – List of Non-Detects (PDFs)
This notice is being sent to you by Marina Coast Water District. California State Water System ID#: CA2710017